I think this might be the year! We might actually replace our deteriorating rustic picket fence with a newer version. I keep trying to tell myself that our fence is shabby chic style but now that we've painted the exterior of our home, the fence just looks more worn and run-down. So I'm looking at inspirational photos for picket fence ideas before finally committing to something.
Sydney Interior Designers & Decorators Horton & Co. Designers
How adorable is this yellow picket fence with its little gate? The house behind it is equally charming! I think I'm ready to move in and call this place my home!
Traditional Exterior by Sherman Oaks Architects & Building Designers JWT Associates
I'd like to have an arch over the gate like this home when we replace our fencing. Wouldn't it look pretty with climbing roses or wisteria winding its way over the top?
Bloomfield Hills Architects & Building Designers DesRosiers Architects
Rounded pickets wrap around this gorgeous seaside home!  The humble picket fence doesn't look out of place in front of this stately house.
Traditional Exterior by Arlington Architects & Building Designers FitzHarris Designs
This house has several elements that says "Americana" … from the large front porch to the waving flag to the charming picket fence. Beautiful home!
Traditional Exterior by Huntsville Home Builders VTS Homes
A picket fence doesn't have to be painted. You can leave it unfinished to weather and gray.
Entry by New York Interior Designers & Decorators Anthony Baratta LLC
Another charming home complete with a picket fence and rambling roses!
Transitional Exterior by Melbourne Interior Designers & Decorators Bloom Interior Design
Love this low-slung home with its spacious porch and curb appeal, all encircled with a charming fence.
Boyne City Landscape Architects & Landscape Designers Common Ground Landscapes
Enclose a garden area with a fence, and keep the gate closed with a ball and chain!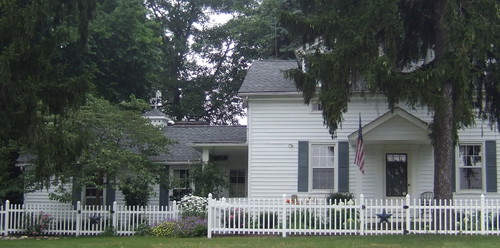 Outdoor Spaces by Shirley Corwin
Garden gates get a special touch with black stars.
Farmhouse Exterior by Louisville Architects & Building Designers KGA Studio Architects, PC
I like houses that have a fence out front. I'm not sure if this would look good with our house because our front yard is so small, but I'd really like to try it.
Exterior by Melbourne Windows Whetstone Windows & Doors
The pickets on this fence are placed fairly close together. The little flowering trees behind the fence are a quaint touch. I love this house!
Traditional Exterior by Chatham General Contractors Fellman Brothers Builders
And finally, a bare picket fence surrounding the front yard of a classic Cape Cod home. I guess my next step is to call a fencing guy or two and get some estimates.
Here's what my fence currently looks like, with its garden banner. You can see that the pickets are very worn. Some of the pickets are starting to split so it's time for the "shabby chic" look to go!
Do you prefer a painted fence or one that has a natural look?