It's been a little warmer than normal the last couple days but I refuse to turn the air conditioning on this early in the year. So last night while I was sweating in my bed, I was dreaming of how nice it would be to have my very own sleeping porch during the summer months. A screened sleeping porch of course, so I don't have to deal with mosquitoes and creepy crawlers! (Click on photo to be taken to original on Houzz.)
Traditional Porch by Edina Photographers Sethbennphoto
This cabin style porch is perfect for sleeping! The bed is suspended by chains so you can gently swing yourself to sleep, just like a baby being rocked. I love the wicker furniture and lamps on this porch, too.
Farmhouse Kids by Atlanta Architects & Designers Historical Concepts
Love this cottage style sleeping porch. It reminds me of the one at Mrs. Ashby's house that I used to clean when I was 15 years old. Her home was the start of my love affair with old and charming houses.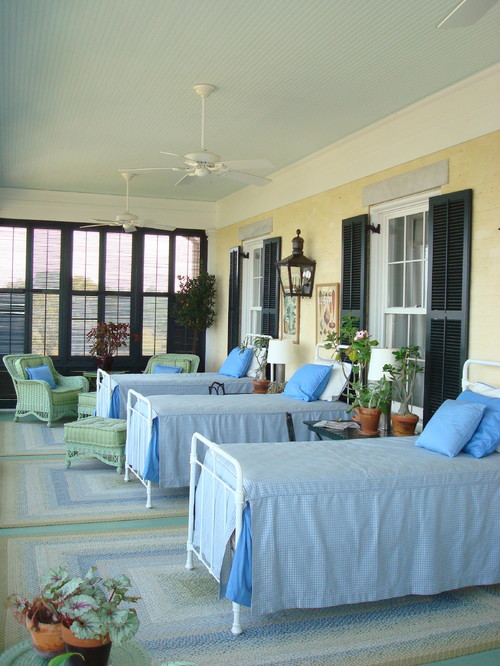 Traditional Bedroom by Little Rock Architects & Designers WARD A LILE DESIGN
Doesn't this summer sleeping porch look like something at grandma's house? What grandkid wouldn't love hanging out at grandma's and sleeping on this porch with their cousins?
Traditional Kids by Chicago Architects & Designers Rugo/ Raff Ltd. Architects
I would love waking up to the morning sun in this romantic porch.
I love how the airy curtains drape from rods that run the length of the windows.
Rustic Porch by Minneapolis Interior Designers & Decorators Michelle Fries, BeDe Design, LLC
Here's another rustic cabin type porch, perfect for sleeping during the cooler months of fall. A big stone fireplace can keep things toasty warm if the temperatures drop. And look … wine, bread, cheese, and fruit are ready and waiting!
Traditional Bedroom by Cambridge Interior Designers & Decorators Kate Maloney Interior Design
This light and airy porch would be so much fun for a girl's retreat with your best friends.
Farmhouse Bedroom by Wenatchee Photographers Travis Knoop Photography
A sleeping room with a view! I love the bucolic grounds just outside the windows of this porch.
Traditional Porch by Sandy Hook Architects & Designers Jonathan Kost, Architect
A daybed at the end of this screened porch is the perfect place for reading or napping.
Another suspended bed, the ropes gently swing you to sleep on the screened-in sleeping porch.
Farmhouse Porch by Sharon Architects & Designers Rafe Churchill: Traditional Houses
Plush mattresses provide sleeping comfort in this cheery screened porch.
Traditional Porch by Point Pleasant Beach Architects & Designers Richard Bubnowski Design LLC
One more suspended bed in a charming porch.  I love to sleep in open air as often as possible.
I think the fresh air is good for the heart and soul!
 Sharing this post at Metamorphosis Monday