The first type of pottery that caught my eye as a child was my grandmother's collection of ginger jars. Each one had its unique pattern. Next I favored Red Wing pottery. Then I joined the white ironstone craze that Martha Stewart instigated. Today, I enjoy decorating with pottery that's a little more rustic. But I still love most styles.
Photo by Tim Cuppett Architects
The top shelf of this pantry displays blue and white ginger jars which I still find pretty but are perhaps a bit more delicate than my current decorating style.
Photo by O'Brien Harris LLC
Rustic pottery like these two-toned bean pots are more in line with the earthy and organic style I'm craving today. Perhaps the down-to-earth attraction stems from all the craziness in today's world. I need something calming and anything that looks handmade tugs at my heart strings.
Photo by Studio McGee
Gorgeous green pottery below fills a display hutch in a showcase home. If you enjoy decorating with pottery, a hutch or some type of open shelving is a must.
My friend Danielle at Finding Silver Pennies has a gorgeous Welsh hutch filled with beautiful white ironstone. I just so happened to with her in Chicago when she was on the phone trying to purchase it. I'm featuring her kitchen this Thursday – you don't want to miss it!
Photo by Diane Bennett Bedford
Here's an art deco piece of pottery. It's beauty stands on its own.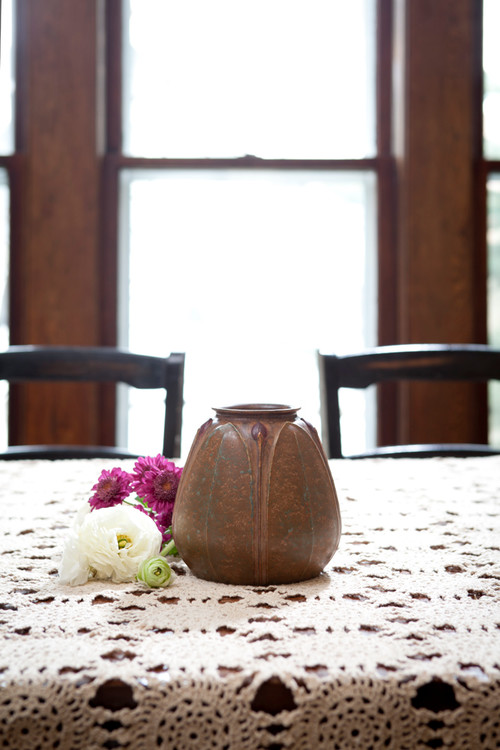 Explore artwork on Houzz
Pottery doesn't have to be old to be pretty. Here, a large urn stands next to a gray hutch filled with new white and gray pieces.
Photo by Neptune
Blue and white is always a classic look when decorating with pottery and you'll never go wrong with this color combination.
Photo by Neptune
What type of pottery are you most attracted to?
You Might Also Enjoy:
How to Artfully Display Pottery
Create Pretty Vignettes to Lighten Your Spirits
Arranging Flowers with Teco Art Pottery
Wooden Bowls Bring Nature Inside Your Home