Decorating with Wallpaper: 13 Ideas
My father owned a small decorating company when I was growing up. He ran his business as a side gig to his teaching career. On weekends and during summer months, dad would paint inside and outside local houses. He also wallpapered rooms and I eventually went to work for him during summer breaks as a college student. Dad taught me how to wallpaper and when he retired, he gave his wallpaper boards and equipment to me.
Traditional Bedroom by London Photographers Paul Craig Photography
Decorating with wallpaper fell out of favor in the 90's, but it's slowly making a comeback. In fact, wallpaper was listed as a design trend for 2015. Wallpaper lends depth to a room when you use it as a base for mixing patterns.
Mediterranean Kitchen by Wichita Interior Designers & Decorators Tiffany Farha Design
Did you ever put a wallpaper border on your kitchen soffit?  This one wears red wallpaper in lieu of a border. The red color is repeated in the fringe work at the bottom of the Roman shades.
Traditional Living Room by Malibu Architects & Building Designers Burdge & Associates Architects
Decorating with wallpaper can really make a visual impact like this emerald green paper with pheasants.
Farmhouse Hall by Columbus Photographers Julie Ranee Photography
A sweet little print adds country charm to a bedroom. This is the type of wallpaper I remember hanging when I first started hanging paper. You could check out wallpaper books from the store and spend a couple days looking through all the patterns.
Traditional Bathroom by Asheville Interior Designers & Decorators Kathryn Long, ASID
A small floral wallpaper is typical of some of the more popular wallpaper prints from back in the day. I remember looking through all the patterns and then choosing a corresponding fabric for windows or pillows.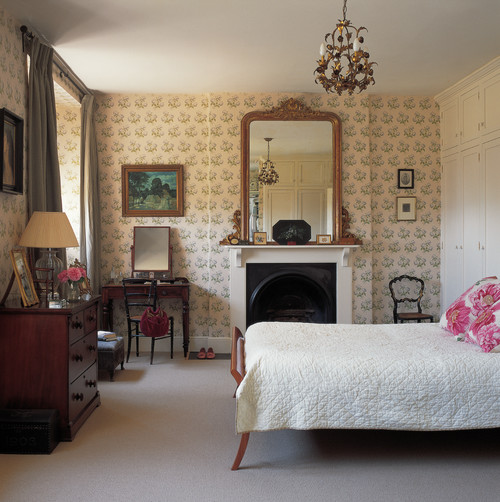 A softly patterned wallpaper is a good choice if you're afraid you might tire of the pattern. That's one of the disadvantages of wallpapering a room. It's harder to change than had you painted the room. But if you prep the walls properly, wallpaper isn't all that difficult to remove (I actually find tearing it off to be somewhat therapeutic).
Eclectic Bathroom by Perth Interior Designers & Decorators Etica Studio
I love vintage style wallpapers like this one that features old newspapers.
Bathroom by Madison Interior Designers & Decorators Jules Duffy Designs
Use wallpaper to add warmth to a room. It always pairs well with painted bead board!
Decorating with wallpaper lets you explore and expand your creativity. You wouldn't expect to find an Asian-inspired wallpaper in a farmhouse kitchen, but for some odd reason it works.
Traditional Bedroom by Harbor Springs Home Builders Cottage Company of Harbor Springs
Stripes are always a great wallpaper option and can make low ceilings appear taller.
Rustic Bedroom by Edwards Interior Designers & Decorators Slifer Designs
Not ready to wallpaper an entire room?  Consider adding it to one wall to create a focal point.
Beach Style Bathroom by Jamestown Interior Designers & Decorators Taste Design Inc
I love the paper in this space!  I have to confess … bathrooms are the hardest room to wallpaper because they have so many things to wallpaper around … like a bathtub, shower, and sink.
Beach Style Bathroom by Kennebunk Interior Designers & Decorators Hurlbutt Designs
Map wallpaper is a great choice for a beach style bathroom with nautical hardware and a port hole mirror. It's like you're ready to sail the seven seas!
So what do you think?  Is wallpaper really making a comeback … and how do you feel about it?