My daughter and I are celebrating Valentine Veggies this month! Every week this February, Bridget and I will create vegetable dishes and share the recipes with you. So be sure to visit me and my daughter over at Flour N Friends each week for a total of 8 vegetable recipes. Bridget studied Pasty Arts at a local culinary institute so you don't want to miss her vegetable creations (not to mention all the other recipes on her blog). Bridget is posting her first veggie recipe on Monday, February 6th. And now, to kick off a month of Valentine Veggies … I bring you Easy Vegetable Gratin (recipe at end of post).
A simple and unassuming dish that can be eaten alone, paired with a salad, 
or served as a side dish with chicken or fish.
Start by chopping, boiling and mashing your basic spud.
Grab a healthy green head of cabbage.
Chop it up and boil it for 5 minutes, then stir into your mashed spuds.
Slice up some carrots, rich with beta carotene.
You'll boil these for about 10 minutes.
Don't forget some luscious leeks, softened over the stove with just a bit of butter.
You'll layer all your vegetables, starting with the potato and cabbage mixture.
The leeks are spread over the spuds and cabbage, followed by the colorful carrots.
The final layer is another dollop of the potato and cabbage mix.
Then sprinkle a little grated cheese on top and slide it in the oven.
After 45 minutes your Vegetable Gratin comes out of the oven looking like this.
Tasty and filling enough to eat on its own … or serve it as a side dish.
I'm a vegetarian so it's a main dish for me. Yum!
Easy Vegetable Gratin
2 lbs potatoes, peeled and diced
4 tablespoons milk
1/4 cup butter
5 cups green cabbage, chopped
3 cups carrots, thinly sliced
1 1/2 cups leeks, chopped
1/2 cup grated cheddar cheese
Salt and Pepper
Boil potatoes in water for 20 minutes. Drain and mash until smooth. Stir in the milk and half the butter, add salt and pepper to taste. Boil the carrots about 10 minutes, and boil the chopped cabbage for 5 minutes. Drain the cabbage and mix with the potatoes. Melt the remaining butter in a small pan and cook the leeks until soft (not brown). Preheat oven to 375 degrees.
Spread a layer of the mashed potato and cabbage mixture in the bottom of a greased casserole dish. Layer onions on top, followed by the carrots. Repeat the layers and finish with another layer of the potato mixture on top. Sprinkle the grated cheddar cheese on top. Place the casserole in the oven and cook for 45 minutes. Serve immediately
Grab the button and post on your blog to remind you to come back for more healthy veggie recipes for you and your family!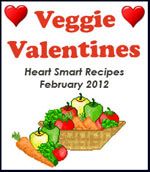 Partying At …

Show Off Your Cottage Monday at House in the Roses

Newbie Party at Debbiedoos 
Sunday Showcase at Under the Table and Dreaming

Not "Baaad" Sunday at Lamb Around 

Metamorphosis Monday at Between Naps on the Porch

Tuesday's Treasures at Uncommon Slice of Suburbia