Finding the Perfect Kitchen Farm Table
My flea market kitchen table has seen better days. It's rickety, I'm constantly re-painting it, and I think it's way past its prime. After having success with my new dining table, I started the hunt for the perfect kitchen farm table. I'm sharing some examples of style I considered, and then I'll share the kitchen farm table I ended up choosing. (This post contains affiliate links.)
A round kitchen farm table was my first choice when I began my quest. One like this beauty from Ethan Allen would be perfect – except I couldn't find one the right size. They were either too big or too small.
I was also leaning toward an all-wood table with neither the top nor the legs painted.
I would've loved a high top table, but then I wouldn't be able to interchange my dining room chairs with both my dining and kitchen table. There are two chairs in my dining room that don't fit my space quite right, so my thought was to bring them into the kitchen.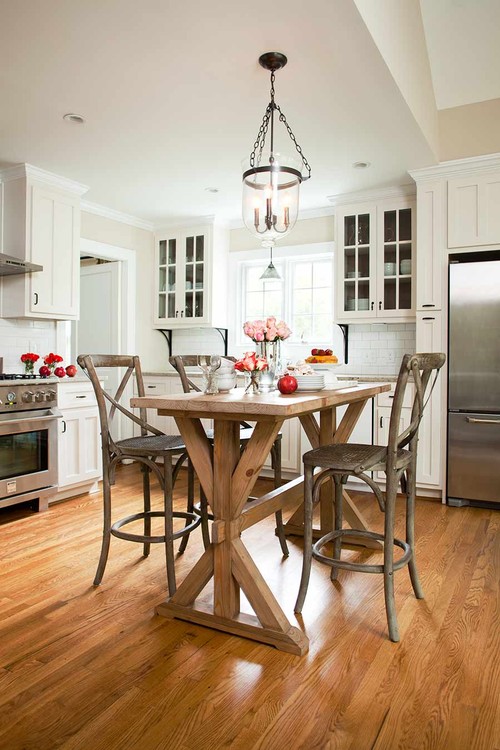 Photo by Terracotta Design Build
I love the idea of painted chairs with a kitchen farm table, but the last thing I need is more chairs.
Photo by David Sharff Architect, P.C.
A sturdy, rustic kitchen table would look charming too. Hubby suggested shopping for a table at our local flea market, but that's where I found my existing table and I didn't want to risk something being wrong with it.
I love this table. The cross bar at the bottom works perfectly as a foot rest while dining. The chairs are really unique and likely came from a rectory or monastery.
This wooden kitchen farm table is almost exactly what my little nook needs. Just a simple 4-seater table for breakfast or when the grand kids are over.
Photo by Lisa Gabrielson Design
Here's another cute table properly sized. However, I didn't want white. I wanted a wood finish.
I decided if I couldn't have a round table due to size constraints, my next best choice would be a square table. I can set a square table smack dab in the middle of the nook for dining, or push it up against the wall and use it as a buffet of sorts.
And so … the Stephens dining table from Pottery Barn was the final winner! These images are from Pottery Barn – the size of the table is perfect for my kitchen nook … and look at that cute little drawer it has!
The store didn't have this table in stock, but rather than go home and order it online, I ordered it from the store. This way, the local store gets credit for the sale. I try to shop locally as much as possible.
My new kitchen farm table doesn't arrive until after Christmas, but that's okay. With all that's going on for the holidays, I don't mind getting it until later. I can't wait for hubby and me to enjoy our first breakfast at the table!
Pin It for Later:
Shop the Look: