10 Ideas for Decorating with Painted Furniture
People typically fall into one of 2 categories when it comes to wooden furniture … painted or unpainted. I think it's safe to say that I fall  into the painted category. I love the look of old, worn wooden furniture but I still tend to migrate toward painted pieces. To share my passion with you, I went to Houzz to find ideas for decorating with painted furniture.
1. Pull Out Color from a Patterned Piece
A small, dark blue dresser pulls the blue out of the comforter on the nearby bed.
The dark blue paint tones down the pink and helps to add drama to the room.
Rustic Bedroom by Bozeman Architects & Building Designers Pearson Design Group
2. Create a Monochromatic Scheme
White is a popular color for furniture these days – it goes with everything.
Here, a white painted armoire contributes to an all-white, restful bedroom.
Eclectic Bedroom by Other Metro Media & Bloggers Dreamy Whites
3. Create a Focal Point with a Bright Color
Rocking chairs painted a bright aqua create a focal point on a plain porch.
Your eye is naturally drawn to the aqua … you can accomplish this technique in any living space.
Farmhouse Porch by Norwich Architects & Building Designers Smith & Vansant Architects PC
4. Use Neutral Tones to Create a Soft Palette
Gray furniture pairs well with green in this entryway since both hues are soft and don't fight each other.
Photo by Elizabeth Home Decor & Design, Inc.
5. Treat Furniture Like a Canvas for Artwork
Give furniture a custom look by painting a mural of sorts on it. Here, the pattern on the table matches the headboard of the bed.
Photo by Linda McCalla Interiors
6. Pair Bright Color with White
If you're afraid to use strong colors, pair one small piece with white walls.
The look is crisp, clean, and has cottage charm.
Traditional Bedroom by St. John's General Contractors CapeRace Cultural Adventures
7. Paint Furniture Red to Energize a Room
The color red adds instant energy to any room!
White dishes look classic in a big, country red hutch.
Traditional Dining Room by Annapolis Furniture & Accessories Maine Cottage
8. Paint One Small Piece of Furniture in Your Favorite Color
Afraid to paint an entire room in your favorite color?
Consider painting a single chair so you can enjoy your favorite shade without being overwhelmed.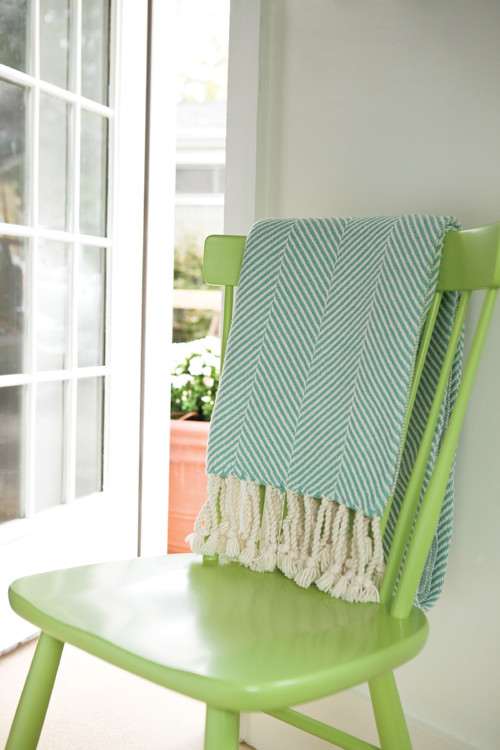 Traditional Spaces by Annapolis Furniture & Accessories Maine Cottage
9. Pair Two Painted Pieces Together
Blue and green are analogous, meaning they're next to each other on the color wheel.
The dresser and mirror are a perfect example of using this approach with painted furniture.
Traditional Hall by Greenfield Media & Bloggers Thrifty Decor Chick
10. Use More than One Color on Painted Furniture
Be brave and use more than one color on a piece of furniture! Use the natural lines of the piece to determine where to place colors. If you don't like it, you can always repaint it!
Eclectic Living Room by Ames Furniture & Accessories American Country
I hope these 10 tips have inspired you to try something new or different with painted furniture in your home.
You might be amazed what you can do with a worn-out piece. See how I transformed the game table below.
What's a favorite painted trash-to-treasure piece in your home?