Cabin Style Decorating Ideas
It's not officially winter yet but once the snow starts to fly I dream of getting cozy in a cabin … or ski lodge. Some place with warm wood treatments and a crackling fireplace. A plaid blanket or cable knit throw would be an added plus. I searched Houzz for cabin style decorating ideas just to indulge myself for a bit.
Farmhouse Kitchen by Peachtree City Architects & Building Designers Our Town Plans
I fell in love with this rustic kitchen/dining space.
The white farmhouse sink and ruffled skirt keep the room from looking too heavy.
Rustic Bedroom with Ski Lodge Style
An industrial style fireplace takes center stage in this cozy bedroom.
A woodsy view out the windows creates a wilderness vibe.
Rustic Living Room by Other Metro General Contractors Teton Heritage Builders
A massive stone fireplace is the focal point of this log cabin living room.
Red is a perfect complement to warm woods!
Rustic Bathroom by Salmon Arm General Contractors Traditional Log Homes Ltd
How about a cabin style bathroom? So many natural elements in this space!
A stone wall, rough hewn wood, and even a stone sink!
Rustic Bathroom by South Deerfield Architects & Building Designers Habitat Post & Beam, Inc.
I adore the wooden sink in this rustic bathroom.
The mirror camp style lights are an added bonus, along with the antler towel holder.
Kitchen by Huntersville Interior Designers & Decorators Ally Whalen Design
There's no reason why you can't have painted cabinets in a cabin style home.
This cabin has a bit of cottage style to it, giving it a lighter look than the other examples.
Rustic Kitchen by Grand Rapids Architects & Building Designers Sears Architects
Even though I love a cozy cabin style, this kitchen is more my style.
You still get the warmth of natural wood, but there's plenty of white which I always enjoy.
Rustic Kids by Ponte Vedra Beach Interior Designers & Decorators Jean Macrea Interiors, Inc.
When I think of cabin style, this bedroom is exactly what I imagine.
This looks like something straight out of a western lodge.
Rustic Bedroom by Seattle Architects & Building Designers Bosworth Hoedemaker
Here's a simpler rustic bedroom with a little cottage influence.
I love the ticking stripe bedding.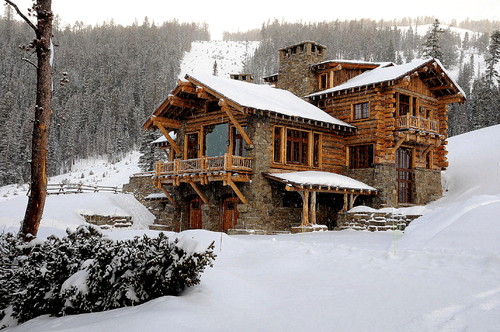 Rustic Exterior by Atlanta Architects & Building Designers Peace Design
Maybe this winter hubby and I can find a lodge like this to get away for a weekend.
And maybe I'll even go down hill skiing again, just for fun!
Speaking of winter, be sure to see my Christmas home tour if you haven't already.
And speaking of Christmas,
there's still time to enter to win a copy of Creatively Christmas!