Charming Home Tour ~ Victorian School House
Would you ever live in a church, school, or maybe a barn?  I have to give a lot of credit to architects and homeowners that can see beyond the four walls of a building and envision something spectacular. Today's charming home tour is an amazing, renovated Victorian school that I found on Houzz (photos by Chris Snook).
An exposed brick wall, large wood beams, and custom interior doors add stunning architectural details to this cozy home decorated in farmhouse style. An old steamer trunk serves as a coffee table in the living room.
Victorian homes often had stained glass windows, and why should a renovated Victorian school house be any different? This door leads into the entry of the home.
The home's staircase was lovingly restored with rich wood and turned spindles. A tiny door provides hidden storage under the stairs.
Laundry room cabinets painted an energetic blue create a lively atmosphere, along with tiny plants suspended from a curtain rod hanging mid-window.
A rustic dining table fills the expansive dining space in the Victorian school house. You can easily imagine this room filled with desks and the lively conversation of children.
London Photographer Chris Snook
A rich leather chair is the perfect accompaniment to the exposed brick wall and stone fireplace mantel.
Farmhouse Kitchen by London Photographers Chris Snook
The same vivid blue from the laundry room hugs the cabinets in the industrial style kitchen.  The wall of windows looks into the dining space.
Farmhouse Dining Room by London Photographers Chris Snook
Painted Scandinavian style chairs flank the farmhouse kitchen table.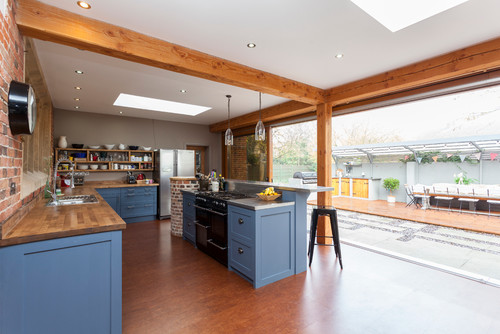 London Photographers Chris Snook
A truly unique feature of the Victorian school house's kitchen is the oversized, glass sliding doors that open up to an expansive patio that's been optimized for entertaining.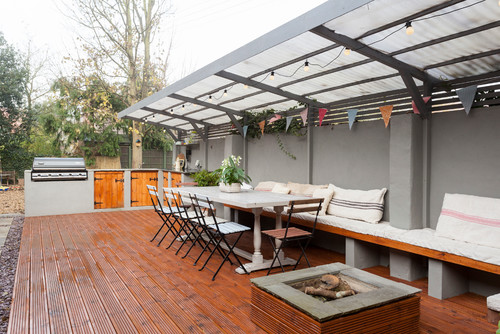 Outdoor Spaces
A fire pit, ample seating, and large grill make for ideal warm weather parties.
Farmhouse Bedroom by London Photographers Chris Snook
An under-the eaves bedroom in soft colors creates a soothing, cozy place to sleep.
Farmhouse style sinks pair up under Victorian style mirrors.  Glass shelves under the sinks provide extra storage space for towels or other items.
A large walk-in shower adds a little bit of luxury to the renovated school house.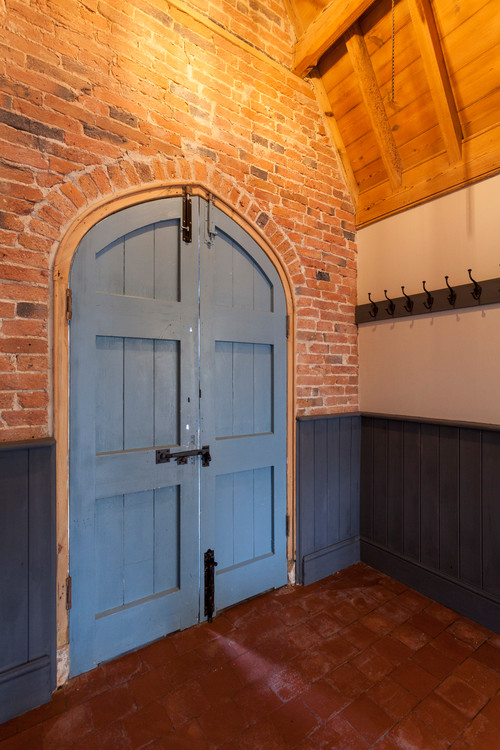 Farmhouse Spaces by London Photographers Chris Snook
Many of the Victorian school's architectural details were left intact, creating a warm, inviting, and unique home.
Exterior by London Photographers Chris Snook
Now that you've taken the tour of this renovated Victorian school house, what's the verdict? Would you like to live in a unique dwelling space like a school or a church?
See additional house tours in the Charming Home Series!