Colorful Russian House: Charming Home Tour
Illinois is breaking out in color on the trees and in honor of the fall fanfare, I thought I'd choose a colorful home for today's tour. Have you ever stepped inside a Russian house? This one by designer and decorator Zhenya Zhdanova is quite cheerful and charming!
You'll notice an abundance of painted bead board and paneled walls throughout the home. A pair of vintage style chandies illuminate the dining space, decorated in red and blue.
A charming built-in plate rack provides space for displaying colorful floral dishes.
An ornate buffet is crowned with a gallery wall of colorful prints.
Red accents energizes the green and white kitchen.
A simple floral arrangement fills a white pitcher that's paired with sweet little tea cups and feminine pillows.
This Russian house has many architectural details like the arched doorway and a pretty powder room tucked under a stairway. If you feel your home lacks interesting details, bead board and trim are fairly easy to install and create a custom look.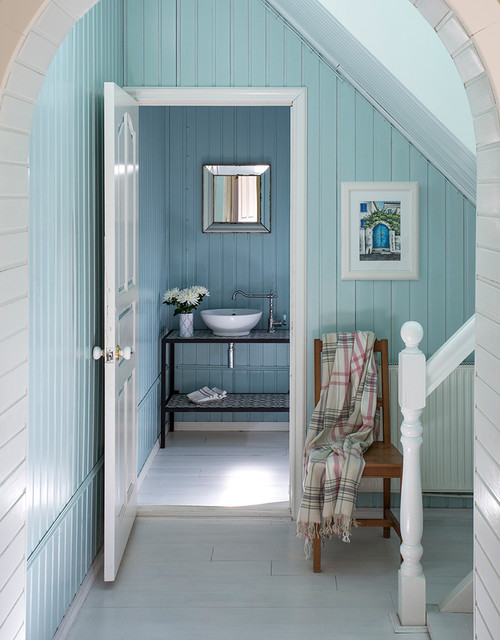 Photo by Женя Жданова
Soft yellow graces one of the many bedrooms. The back of a chair provides architectural artwork.
A similarly designed bedroom takes on blue and red. An unexpected shot of orange appears on the bedside lamp table.
A vaulted ceiling in the Russion house creates a sense of spaciousness. White painted flooring adds to the lofty and airy appeal of this space.
Lavender and blue grace yet another bedroom. Accents of orange add a little energy.
You can enjoy more photos of this colorful Russian house over at Houzz.
Pin It for Later:
See more house tours in the Charming Home Series!