Top 5 Home Design Trends for 2015
Although I don't consider myself a trendy person per se, I do enjoy watching trends and seeing how others use them. Zillow Digs recently announced the top 5 home design trends for 2015 and I thought it would be fun to share them with you and see how you feel about them.
1. Gold Fixtures
Kitchen by Portland Interior Designers & Decorators Garrison Hullinger Interior Design Inc.
Gold fixtures were popular in the 80's and they're making a come back.
Combine gold with silver like you see in this farmhouse kitchen.
The faucet is a brushed gold while the cabinet hardware is silver.
Modern Kitchen by Brooklyn Architects & Building Designers WORKSTEAD
I'm not a huge fan of gold, but I do like it as an accent, like you see on the China here.
In fact, I have a set of gold flatware that I use on special occasions.
2. Cowhide
Traditional Porch by Atlanta Interior Designers & Decorators Lindsey Hene Interiors
Cowhide may be a trend in 2015 but I've been seeing it quite a bit this past year, too.
I love cowhide rugs but they'd have to be faux to come into my home.
Eclectic Living Room by Other Metro Media & Bloggers sarah & bendrix
If an entire cowhide rug is too much for your taste, you could opt for something smaller like an ottoman or even a few throw pillows in a cowhide print. I think the pillows could be pretty cute.
3. Wallpaper
Traditional Entry by Baltimore Interior Designers & Decorators Elizabeth Reich
Oh yes, wallpaper is expected to make a huge comeback in 2015! When I first moved into our current home about 17 years ago, I wallpapered our kitchen, the downstairs bathroom, and two of the bedrooms. I've since ripped off all the wallpaper and painted those rooms.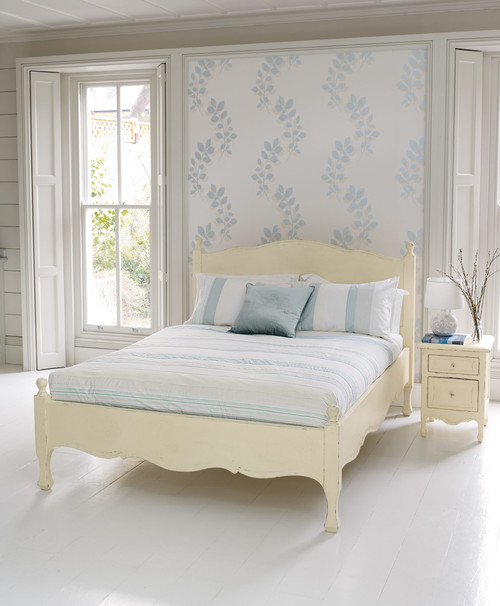 Houston Paint & Wall Coverings American Blinds Wallpaper and More
Funny. Just the other day I was wondering if I should get rid of my wallpaper boards since I probably would never wallpaper any rooms ever again … and then I find out wallpaper is coming back in fashion.
4. Blue Accent Colors
Entry by New York Interior Designers & Decorators Joshua Smith Inc
Marsala is Pantone's Color of the Year in 2015, but blue accent colors will make their appearance too. In particular, indigo and navy blue as they make a beautiful complement to marsala. If you're not a blue person, consider adding a touch of deeper blue to just one door.
Living Room by Chicago Interior Designers & Decorators Tom Stringer Design Partners
Blue and white have always been a classic color combination that never goes out of style.
5. Mid Century Modern Elements
Living Room by London Interior Designers & Decorators Amory Brown
You've probably already been noticing the home design trend toward mid century modern. When done right, I think it can be pretty. It reminds me of my grandmother's house.
Dining Room by London Interior Designers & Decorators Amory Brown
What do you think of these top 5 home design trends for 2015? Are there any you'll add to your home this year? Or maybe you're a trend setter and have already added some of these elements to your decor!