Remember that show "Queer Eye for the Straight Guy?" On one of the episodes Thom Filicia, the "design doctor" used apple green to decorate one of the straight guy's bathroom. I would've never thought to use that color in such a small space, but ever since that transformation I've loved the color! And the bathroom turned out great, by the way. So today's post is a nod to that vibrant color … are you ready to decorate with apple green?
A pretty, pale apple green colors the lower cabinets in this gorgeous kitchen.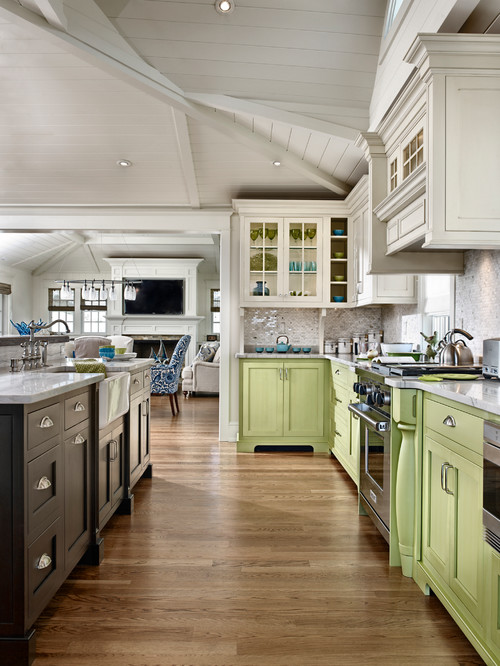 Photo by Beach Dwellings
A bolder, apple green is great in a kid's room! My grandson's favorite color is green and I think he'd approve of this room. Funny, my grandson also has a monkey like the one hanging on the door! We call him Mr. Monkey.
Eclectic Kids by Albuquerque Media & Bloggers Annalea Hart
This bathroom wears a softer shade of apple green paired with plenty of white. I love the simple touches of black that dot the room, all the way down to the fun, geometric floor!
Eclectic Bathroom by Manasquan Furniture & Accessories backporchco
Isn't this a playful summer look for a bedroom? The cool blue walls don't allow the apple green to overwhelm the room with its vibrancy. When you decorate with apple green, it gives the eye a focal point in the room.
Farmhouse Bedroom by Millbrook Architects & Designers Crisp Architects
Here, a dining room at the end of the hallway is wallpapered in apple green. Note the diamond pattern floor again here in black and white.
Traditional Entry by West Hollywood Interior Designers & Decorators Elizabeth Dinkel
This cottage style living room uses apple green a little more liberally. I think it looks great on the planked walls … and a little off-topic, but I'm crushin' on that claw foot bathtub in the next room!
Farmhouse Home Office by Austin Architects & Designers Tim Cuppett Architects
In this study, apple green goes rustic! I think some people might be disturbed by the mix of pattern with the curtains and the wallpaper, but I actually kind of like it. I think the brown trim helps to ground the patterns.
Eclectic Home Office by Salem Photographers Tess Fine
A pretty laundry room pairs pale apple green with a geometric black and white checked floor.
Photo by Kristi Spouse Interiors
Do something different and paint a ceiling a fun color. This one's amazing!
Photo by Beth Singer Photographer Inc.
If you're not ready to add a lot of apple green to your home, paint a piece of furniture in the color to brighten your space.
Apple green is a great color for a front door (or back door) on a white house. It gives fresh appeal.
Traditional Entry by Warm Springs Media & Bloggers McClintic Cottage
Have you decorated with apple green in your house?  If not, do you think you're willing to give it a try?