My house is a disaster these days! Boxes of Christmas stuff are stacked in the living room and I feel like everything is in disarray. We recently purchased a new sectional (more on that later) which led to rearranging the family room … which led to moving stuff around in the living … which led to rearranging the dining room. I need a little rest and relaxation, so today's post is about decorating with blue. Blue is peaceful and calming and just what the doctor ordered! Here are some inspirational examples I found on Houzz.
Vineyard Haven Architects & Building Designers Sam Sherman Associates, LLC
In the first home I ever owned, I painted the kitchen cabinets this shade of blue.
You don't often see blue in a kitchen but I love this shade of country blue.
Traditional Dining Room by Portland Interior Designers & Decorators Garrison Hullinger Interior Design Inc.
Pale blue walls create a calming dining room. Dark floors create drama while white trim adds crispness.
Traditional Bedroom by New York Interior Designers & Decorators Beach Glass Interior Designs
When I think of the perfect room to be painted blue … it has to be the bedroom!
Its calming hue is perfect for falling peacefully to sleep.
Contemporary Bedroom by Atlanta Photographers Erica George Dines Photography
Another peaceful blue bedroom with a statement bed and a beautiful green table!
Traditional Exterior by Sausalito Architects & Building Designers Heydt Designs
This farmhouse style entryway uses the same hue of blue on both the walls and trim.
Pale wood floors create a coastal vibe.
Eclectic Entry by Other Metro Interior Designers & Decorators Hussein Rady Design
And this entryway brushes a vibrant blue on the doors and stair railing.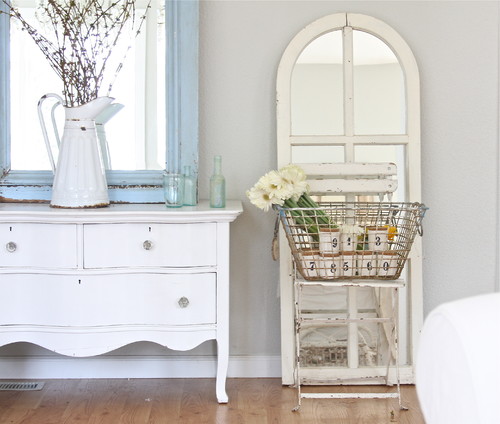 Eclectic Bedroom by Other Metro Media & Bloggers Dreamy Whites
If you're not a big fan of blue, you could simply add a single decorative piece like this mirror.
Dining Room by Chicago Interior Designers & Decorators Tom Stringer Design Partners
Blue and yellow is a classic color combination inspired by the Swedish flag.
Bedroom by Portland Interior Designers & Decorators Landing Design & Development
Dark blue on the walls of a small room creates an intimate, cozy feeling.
Kitchen by Santa Rosa Beach Architects & Building Designers Geoff Chick & Associates
I love a bit of black when decorating with blue and it looks great in this kitchen with touches of red.
And that door!!  I love that arched Dutch door.
Looking at these blue rooms makes me feel more at ease … but I'll feel even better when my mess is cleaned up!
For more blue inspiration, visit my Country Blue board on Pinterest.
Follow Town and Country Living's board Country Blue on Pinterest.