Patriotic Home Decor Ideas
Do you decorate for 4th of July, beyond flying a flag on your front porch? If you love nostalgic Americana style, you likely have a home with a few patriotic home decor pieces. I've put together a collection of rooms in red, white, and blue that I think you'll enjoy as our national holiday approaches.
A sunroom uses a pale blue to give a fresh take on patriotic decorating.
Photo by Lindsey Hene Interiors
From the ceiling to the floor, this kitchen adds a bit of Old Glory's colors on every surface.
Patriotic home decor takes on a bit of coastal style with a large boat in the window.
Photo by Violandi + Warner Interiors
Red and white stripes are a classic look and pair beautifully with accents of blue in a living room.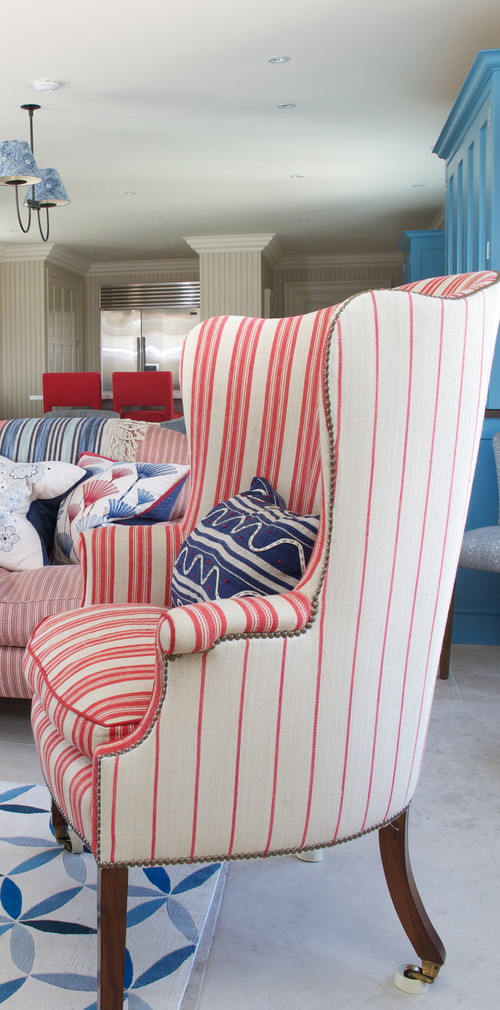 Photo by Fiona Watkins Design Limited
A boy's bedroom looks fresh and cozy in red, white, and blue. I love the use of stars and buffalo checks.
Photo by B.O.B. – Beyond Ordinary Boundaries Architecture
An easy way to add patriotic decor to your home is to hang a wooden flag.
Add a bit of patriotic nostalgia to your home's exterior. Blue siding, red brick and a red door, and white trim create a home worthy of celebrating Independence Day!
Pin It for Later:
You can see more inspirational patriotic home decor ideas in my previous post, Decorating with Red, White, and Blue.
And if after reading this post you feel like a patriotic project, you can see my tutorial for making mini flags for 4th of July.