The art of stained glass is rising in popularity and it's not hard to see why. Beautiful colored glass is held together by lead to create amazing pieces of art for the home. Studios are popping up across the country and in Ohio alone, the number has risen from just a handful 20 years ago to over 100 today. The art of stained glass initially took off in Europe during the 12th century, while the movement began in America when William Jay Bolton made a window for a New York church in 1843. So many patterns have been created and each one is truly a work of art!
Victorian Entry by Other Metro Paint & Wall Coverings Dulux Paint
A beautiful turquoise front door shows off its Victorian stained glass windows. The white clapboard siding on this home really lets the color and artwork stand out. Just gorgeous!
Victorian Entry by South West Interior Designers & Decorators Nadia Reid Interior Design
This front entrance has a double bonus! The front door has a pretty red and blue pattern, but step inside and an interior double door with transom window wows you with more stained glass.
Traditional Dining Room by Little Rock General Contractors Bret Franks Construction, Inc.
Sometimes just a touch of leaded glass is all that's needed. This beautiful dining room allows a simple glass pattern to take center stage in its large, sunny window. I had a friend who made stained glass and I wish I would've bought one of her pieces of art for my home before she moved. I think I would've chosen something like this one.
Victorian Staircase by London Interior Designers & Decorators Amory Brown
Can you imagine having a staircase like this one, surrounded by such beautiful windows?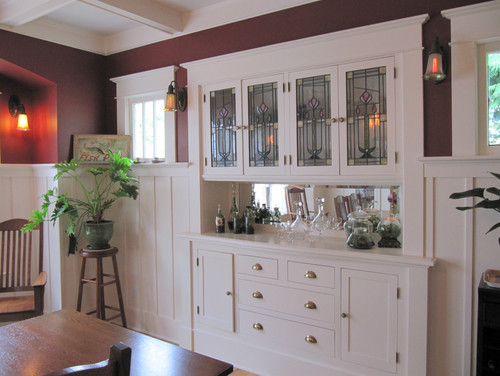 Craftsman Dining Room by Seattle Architects & Building Designers Tim Andersen Architect
An Arts and Crafts built-in hutch shows off its leaded glass doors. Note how the flowers echo the color of the dining room walls.
Traditional Bedroom by Burlington Interior Designers & Decorators Regina Sturrock Design Inc.
Now here's a clever idea! Add a stained glass window to pocket doors for a pleasant surprise.
Victorian Entry by Other Metro Interior Designers & Decorators Kim Pearson Pty Ltd
I love the bright colored glass in this entry way! White walls really set off the colors and brighten the foyer with its rich wood floors. Stunning!
Victorian Landscape by Dallas Landscape Architects & Landscape Designers Archiverde Landscape Architecture
Who says the beauty of stained glass has to stay indoors? This garden gate is a brilliant touch!
Victorian Bathroom by Sandy Hook Kitchen & Bath Designers Smart Design
Stained glass windows are a great way to add both color and privacy to a bathroom.
Traditional Kitchen by Boston Kitchen & Bath Designers Venegas and Company
Leaded glass windows look beautiful in a kitchen. I love everything about this space from the copper sink to the painted cabinets to the ornate windows!
Farmhouse Bathroom by Saratoga Springs Architects & Building Designers Phinney Design Group
This farmhouse bathroom gets a little bit of bling with its chandelier over the claw foot tub and a stained glass transom window that separates the bathing area from the sink.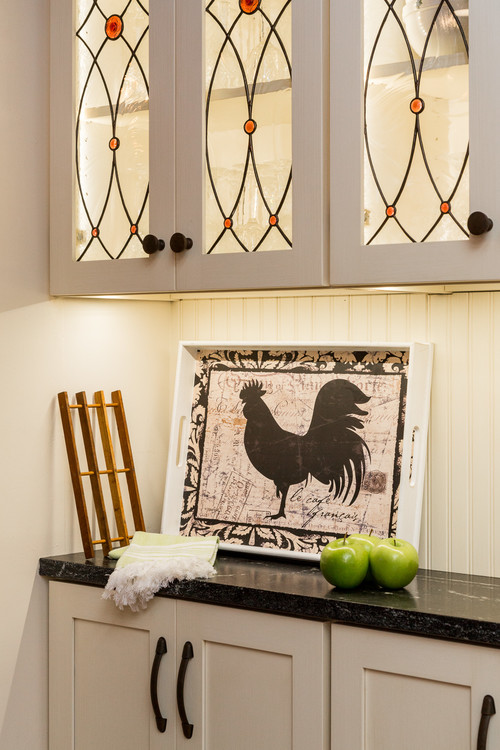 Farmhouse Spaces by Londonderry Interior Designers & Decorators New England Design Elements
If you don't have any stained glass windows in your home, you might consider swapping out some cabinet fronts for these beautiful windows. Just a touch is all that's needed to add this beautiful art form to your home.
So what do you think? Are you a fan of stained glass?
More information is available on Made How