Normally I'm attracted to whites and cool colors when it comes to decorating my home. That all seems to be changing these days. For some reason, I've been strongly attracted to brown, tan, and other neutral tones like gray. Honestly, I think it began when I featured the Randolph Cottage in my Charming Home Series. The color scheme is a great way to warm up your rooms.
Here's the living room from the house that started it all. I love the warmth and texture of this space.
Photo by Bret Franks Construction, Inc.
Another farmhouse living room injects the color of rust in the form of a love seat.
Is there any furniture fabric richer than supple brown leather? I would love to have a leather chair in my home but fear my kitties would tear it up.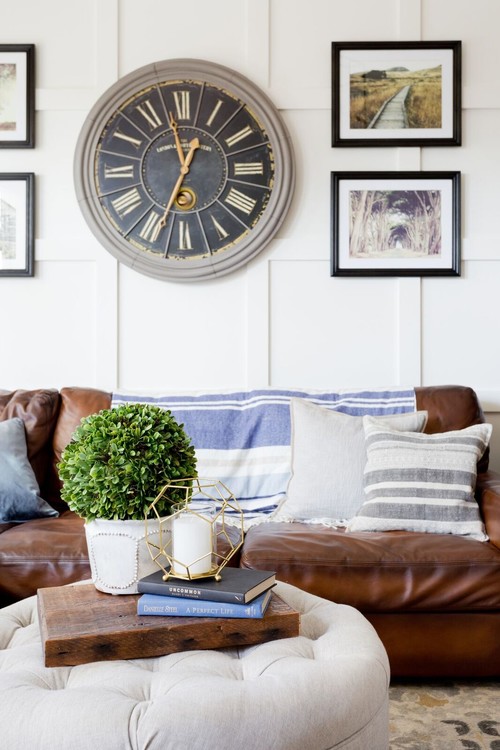 Photo by Jennifer Grey Interiors Design & Color Specialist
Warm up your rooms with rustic beams! We have wooden beams in our kitchen but the ceiling is low and the brown beams felt claustrophobic. I painted them white to "lift" the ceiling.
A cozy and darling sitting nook provides a comfy place to curl up with a good book and warm beverage. I love the brown-patterned chairs. I just ordered two chairs for my own home – you'll see them during my upcoming fall tours.
Photo by Brittany Stiles Design
In the kitchen, warm woods add interesting shades of brown. I've always wanted a kitchen with wood counter tops and a wood floor. I know many of you love my green tile kitchen floor, but I'd really enjoy wood floors someday.
Rustic wood creates interesting textured lines in this country kitchen. The striped window valances add a nice shot of color. And honestly – who can resist that supersized farmhouse sink with its soft skirt?  Love!!
Photo by Kelly and Abramson Architecture
Gray-brown cabinets add rich warmth to a more traditional kitchen. Brown cabinets are a sure way to warm up your rooms. This pretty kitchen makes me feel like I could actually switch from my white cabinets.
Here's a great example showing how brown can instantly warm up a mainly white room. A lot of people think white kitchens are cold, but add a touch of brown and you've got instant cozy appeal. Do you like the striped pendant school lights? I've been looking for new light fixtures for the kitchen. These are cute!
Mmm – I love this kitchen too. Putty brown cabinets pair beautifully with the owner's copper cookware collection. My grandmother had copper pots and pans and I remember how she diligently scrubbed them clean with every hand washing. She never owned a dishwasher.
Photo by deulonder arquitectura doméstica
Classic wing back chairs gather 'round to hug a small game table. A honey-wood floor adds warm to the space.
Textured brown baskets, a solid wood table, and an antique chair all come together to warm up a cozy dining spot.
Tan and light brown stripes create an interesting wall treatment in this dining nook.
Lucky is the guest who gets to sleep in this farmhouse-style bedroom! The natural wood ceiling creates a snuggle-friendly sleeping space. I recently purchased a pretty, light brown matelasse coverlet for my bed. It's perfect for fall.
Photo by Dalgleish Construction Company
Here's a dark brown coverlet in the bedroom. I love this look too.
I don't know why I'm attracted to the color brown these days, but it's really tugging at my heart strings. Maybe as I get older I'm feeling the need to create rooms that feel like they're giving you a big hug.
What do you think about warming up your rooms with the color brown? Is it boring or rich and appealing?
Pin It for Later:
You Might Also Enjoy …
Vintage Mantel with Brown Bottles