Today's charming home tour features a colorful cottage I found at Houzz.  In fact, I found several homes over there that I want to showcase for you in the upcoming weeks, mixed in with some amazing blogger homes too!  Houzz has a wonderful "embed" feature that allows you to share photos on your own site and I use it from time to time to share design inspiration with you … like this oh so cute cottage home!
Photo by Alison Kandler Interior Design
I'm starting today's tour with the kitchen because I'm head over heels in love with this kitchen island/breakfast bar. Lavender isn't for everyone but in this kitchen, the color works like a charm!  Paired with wicker breakfast stools, it oozes cottage style.
Alison Kandler Interior Design – habby-chic style kitchen design ideas
Here's the view from the other side of the angled island. A handy pantry is steps away and a bold floral rug adds color and softness underfoot.
Alison Kandler Interior Design – dining room ideas
More color appears in the dining room of this colorful cottage with its painted chairs and rose-striped rug. The vibrant mix of colors works in the space because the walls are white. A whimsical chandelier adds an element of fun and spacious windows let in plenty of natural light.
Photo by Alison Kandler Interior Design
The shabby chic style living room is filled with bright, plump pillows that are balanced by a playful flowered rug.
Shabby-chic style home office pictures
If you're a fan of color you'll love this cheery home office space.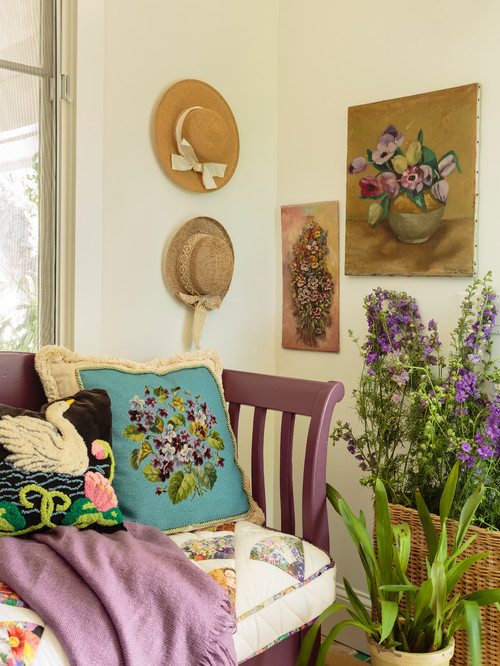 Alison Kandler Interior Design – entryways
Even the home's entryway oozes cottage charm. I love the sweet little hats on the wall. In my first home I had an entire wall of hats like this and I always loved that section of my bedroom.
Shabby-chic style powder room
Is this the cutest bathroom you've ever seen? Note how the scalloped sink reflects the scallops of the vanity underneath. The sink looks like a flower, don't you think?
Colored knobs add whimsy to the master bathroom vanity, while a floral patterned tile floor makes showering fun.
You might remember the bedroom of this cottage featured on my blog in a roundup of dreamy rooms with pretty quilts.
Alison Kandler Interior Design
A collection of quilts lets the homeowner swap out bedding to create a new look in the bedroom.
Colorful Cottage by Alison Kandler Interior Design
If I lived in Santa Monica, I'd want to reside in this colorful cottage. I hope you've enjoyed it as much as me!
See more house tours in the Charming Home Series!