How old were you when you started looking at decorating magazines? I was in my early 20s and my favorite magazines were Country Living and Country Home. I've always loved country style decorating whether it has a farmhouse, cottage, or modern influence. The kitchen is my favorite room in the house and I never tire of thumbing through magazine pages looking at country kitchens.  Here's a collection of country kitchens I recently found that I hope you like, too! Note: These images are embedded from Houzz so you can't pin them, but there's a collage at the end of the post that you can pin to Pinterest!
Beautiful blue! I love it in the kitchen, bedroom, living room, you name it! Blue is the classic country color that never goes out of fashion. Here, painted blue cabinets are paired with a black counter top and dining chairs.
Farmhouse Kitchen by Sharon Architects & Building Designers Rafe Churchill: Traditional Houses
Here's another view of the same kitchen. I love the ship lap on the walls and vaulted ceiling. Wood floors, an apron sink, and industrial lighting lend plenty of farmhouse charm to this country kitchen.
Farmhouse Kitchen by Sharon Architects &  Rafe Churchill
An adorable vintage style kitchen may not be big on the latest modern technologies, but it makes up for it with oodles of charm.
Eclectic Kitchen by South East Media & Bloggers Patchwork Harmony
If you can't tell by now, I tend to favor kitchens with white cabinets. This light and bright kitchen is a little more modern looking, but it has country touches like the subway tile and glass front cabinets.
Contemporary Kitchen by Portland Photographers Lincoln Barber Photo
More subway tile makes an appearance in this charming kitchen with its green cabinets and touches of bead board. Colorful bar stools are an easy way to introduce a bold color in the kitchen.
Country Kitchen by Los Angeles Design-Build Firms RubberTreePlant
This is the perfect coastal kitchen with its white bead board, open shelves, colorful skirting, and blue and green accents. A beach house should be simple and care-free, just like the summer months it evokes.
Beach Style Kitchen by Savannah Photographers Atlantic Archives, Inc.
Yellow is another classic color for country kitchens and this one wears it well along with Mediterranean influences. The island includes a convenient space for sitting and thumbing through your cookbooks.
Mediterranean Kitchen by Tel Aviv Architects & Building Designers Nurit Geffen-Batim Studio
Vintage appliances take center stage in this cottage style country kitchen. Rich wood floors underfoot add warmth and drama to the cooking space.
Victorian homes tend to have warmer colored kitchens and this one is beautiful and elegant. Curved toe-holds add interest where the cabinets meet the pretty wood floor. Simple cafe curtains let the beauty of the window's trim work to show. The plate rack is a nice touch … I've always wanted one.
Victorian Kitchen by Chatham Architects & Building Designers Siemasko + Verbridge
What do you think of this brightly painted kitchen? Is it too much blue or does it tickle your fancy? One great thing about painted cabinets is that you can always change the color if you make a mistake.
Eclectic Kitchen by Howard Lake Cabinets & Cabinetry Dura Supreme Cabinetry
I think a slightly rustic kitchen like this one is what's typically called to mind when you think of country kitchens. A little primitive style with utilitarian pieces thrown in for good measure!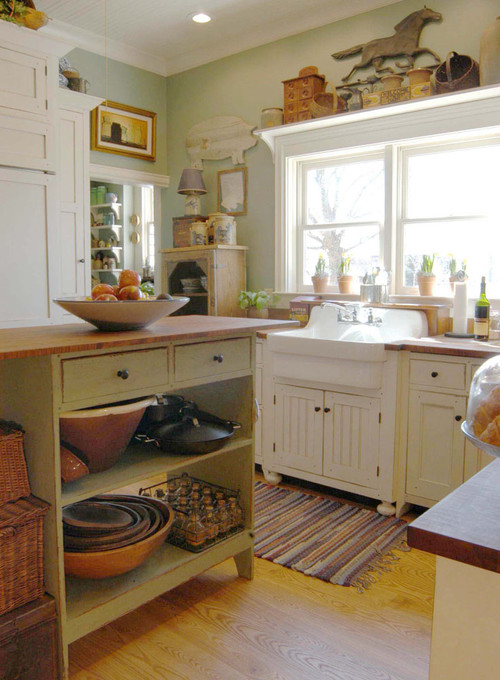 Country Spaces by Morrow Kitchen & Bath Designers The Workshops of David T. Smith
What's your favorite style of country kitchens?