Indoor Plant Ideas for Winter
One thing I really miss during the winter is the color green. The bare leafless trees start to look forlorn and I miss the shades of lush green grass. The outside world begins to look monochromatic during winter and since I can't add color outside, I can bring the greenery indoors. I found some indoor plant ideas for winter over at Houzz.
Eclectic Living Room by Oakton Interior Designers & Decorators Lauren Liess Interiors
This room has a beautiful assortment of topiary style plants.
I love the planted urn and the large botanical on the wall.
Traditional Hall by Sharon Architects & Building Designers Rafe Churchill: Traditional Houses
Group a collection of white flowering bulbs by a sunny window for a simple yet elegant look.
Contemporary Dining Room by Portland Interior Designers & Decorators Jessica Helgerson Interior Design
How about a large indoor planter? We have them outside, why not inside?
I love this one planted with ferns. Kitty is cute, too!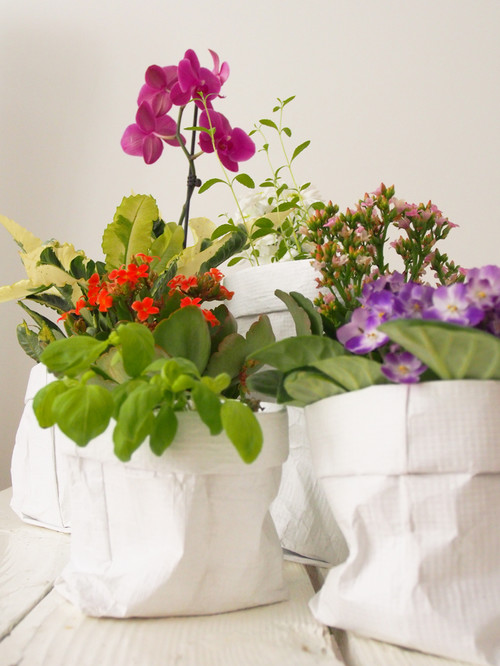 Mediterranean Plants by Other Metro Interior Designers & Decorators -Love, Ana
Give your indoor plants a custom look with pretty paper bags.
Modern Living Room by Milwaukee Garden & Landscape Supplies Willard & May
Terrariums are making a comeback and are truly a work of art.
They can be simple or ornate and you'll find a variety of glass jars to house the plants.
Farmhouse Bathroom by Seattle Photographers Kimberley Bryan
A few air plants dot the wall of this bathroom.
They require very little maintenance and a great for people with brown thumbs.
Contemporary Kitchen by Oakton Interior Designers & Decorators Lauren Liess Interiors
Have you ever grown a citrus plant indoors? I remember when we were kids, my brother bought a miniature orange tree. He was bragging to me how he was going to have a ton of little oranges. I was so jealous, but the plant never bore any fruit which secretly made me happy. I would love to grow a citrus plant indoors some day.
Eclectic Entry by Los Angeles Media & Bloggers Justina Blakeney
Here's a clever way to display indoor plants.
I think the container is just as important as the plant itself.
Fill a windowsill with succulents and cacti.
Neither requires a lot of watering so these plants are another good choice for people without green thumbs.
Earlier this year I shared how to make these hanging globe terrariums.
The globes have hooks on the bottom so you can hang several together.
I love my mossy pot with its simple circle topiary. Adding indoor plants during the winter months can lift your spirits and make the wait for spring a little more bearable.