Tour a Charming Beach Cottage
Today I have a special treat for you! I found a remodeled charming beach cottage over at Houzz and just have to share it with you! At only 950 square feet, it packs a decorating punch with its bright and airy appeal. I think you'll love the simplicity and easy style of its cottage decor.
This Laguna Beach cottage was remodeled by Clark Collins of Collins Design and Development.
The goal was to keep the 1946 cottage as true to its original character as possible.
I love the brick fireplace, built-ins, multi-paned windows, and Dutch door.
A nod to the beach is evident throughout the home, like the Tradewinds sign above the built-in hutch.
An eclectic mix of furniture adds another element of fun.
A graphic trio of swimsuits worn in the 1940's adorn the living room wall.
Patterned pillows echo the colors in the oriental rug on the floor.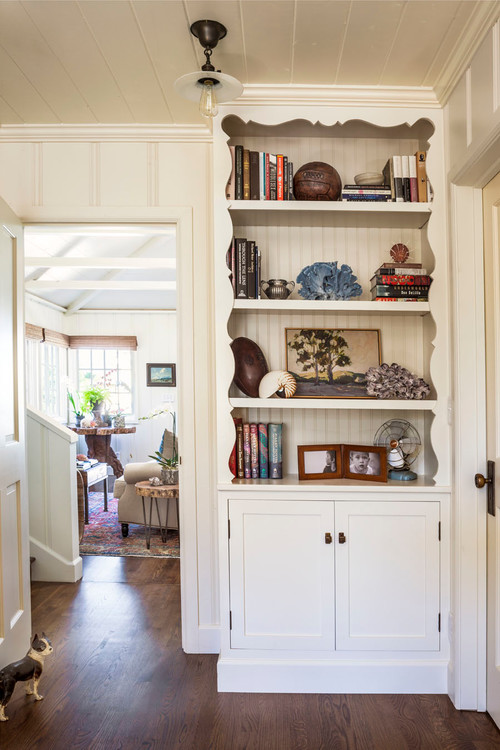 Built-in cabinets provide additional storage space in this tiny home
The cottage might be small in size, but it's large in character.
The galley style kitchen has modern conveniences while embracing vintage style.
Simple painted cabinets are topped off with dark counter tops, adding a bit of drama.
The 1940's light fixture lends a bit of charm to the small but functional kitchen.
Oh how I adore this darling dining nook at the end of the kitchen!
The bay window provides great views of the cottage garden and lets in plenty of light.
I love the paneling on both the walls and the ceiling.
In the bedroom, beautiful blues and white come together for a restful respite from the world.
More multi-paned windows add charm and let in plenty of beachy sunshine.
Added bonus … a door leads out to a breezy deck!
Bamboo shades provide privacy on the door and windows.
An Asian style dresser pairs with an elegant side chair, grouped around a striped rug.
The tall plant draws your eye up to the darling light fixture!
An art deco style bathroom looks classic in black and white. I think when a bathroom is small, it's best to keep it simple and uncluttered to provide a feeling of spaciousness.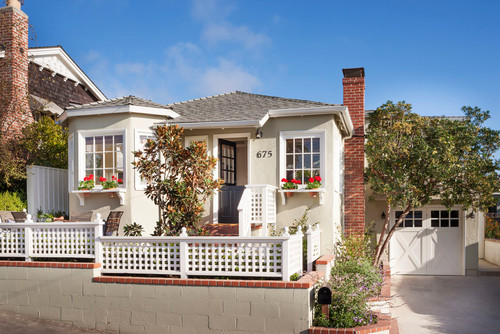 I hope you enjoyed today's tour of this charming beach cottage. You might recognize its exterior from when I shared it the other day in my post about small house living. I knew I'd have to share its interior spaces, too!
And in case you missed it, be sure to check out my giveaway for the New Farmhouse Style book!