How to Use Baskets in Your Home
Baskets make a great decorating accent! You can use them in every room and you'll find budget-friendly baskets in thrift stores or at garage sales. Baskets come in a wide range of styles and sizes. Use them for decoration, style, storage, and more! This post is all about how to use baskets in your home. (This post contains affiliate links. See my  privacy policy.)
Baskets as Storage
Baskets provide an attractive option for storage. Purchase matching sets to make a greater visual impact in a room.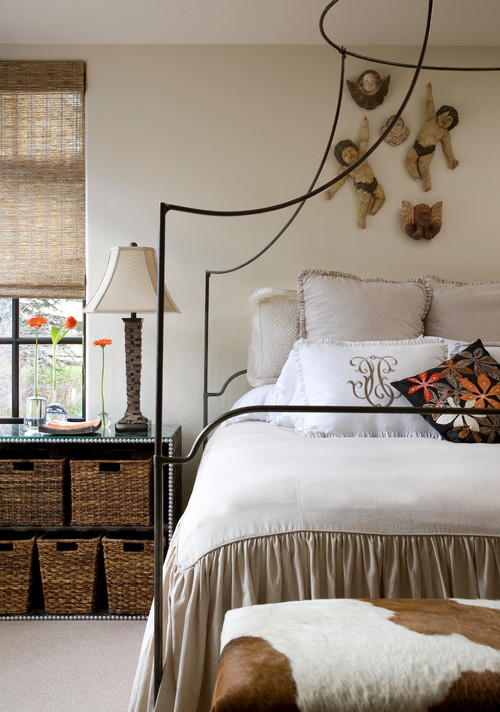 Photo by Studio 80 Interior Design
Vintage baskets look pretty stacked at the side of a kitchen island. Store dish towels, wax paper and tin foil, or any other kitchen item that will fit inside. It's a great option for a country style kitchen.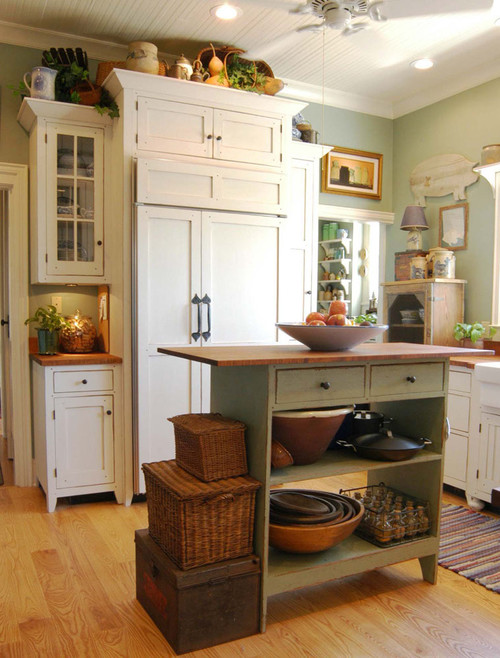 Photo by The Workshops of David T. Smith 
Under Bed Storage
In my under-the-eaves bedroom I've got plastic storage bins under my bed, but they're hidden by a bed skirt. Without a skirt, baskets look cute and provide storage for extra pillows, blankets, and sheets. You could also store your favorite magazines here, too. Kids can pile toys and stuffed animals in them for quick and easy clean up.
Wire Baskets
Photo by FOUR POINT DESIGN BUILD INC
Towels and toilet paper always look good stored in baskets – this time we're looking at wire ones. I've got wire baskets in my own bathroom for storage purposes.
Photo by Lindsey Lang Design Ltd
Have you ever considered hanging baskets on the wall for storage? It's a great way to free up shelf space for other items.
A vintage wire basket cradles favorite reading materials. I have a few of these filled with my fave magazines like Country Living.
Tobacco Baskets
Photo by Laurel Limbaugh Interior Design 
Tobacco baskets are highly popular today, thanks to Chip and Joanna Gains of Fixer Upper fame.
They make great wall decor and look good in vignettes, too. You can find them in antique stores or at your local flea market.
Photo by Judith Balis Interiors
Floor Baskets
Use baskets on the floor for convenient storage. Fill them with blankets and throws for cooler evenings.
They can also be tasked with holding supplies for your favorite past-time, like knitting or reading. Place one at the end of your couch to hold remotes and TV guides.
Basket Pendant Lights
Basket lights are a fun option for creating pendant lighting. They add a farmhouse touch to any room.
Baskets as Decoration
Of course, the obvious choice for using baskets in the home is to simply display them as decor. Top a piece of furniture with your favorites or hang them on a wall like art work!
Shop the Look: