Decorating with Neutral Tones: A Resurging Trend
Some people think decorating with neutral tones is safe and reliable, and today's selection of inspiration rooms prove that neutrals are anything but boring. Neutral decorating palettes are making a comeback. Browns, creams, and plenty of texture create warm, inviting rooms that say, "Come and relax. You're home!"
A stone fireplace takes center stage in this living room with a vaulted ceiling. The rich wood floor provides contrast to the beige, slip covered furniture. Soft blue pillows and ottomans add just a touch of color.
Rustic wood beams create drama in a farmhouse living room with neutral tones. The stone fireplace, tufted ottoman, and planked walls add texture to the space. The soft palette allows all the amazing features of this room to come to the forefront.
Photo by Dalgleish Construction Company
A few doses of dark gray add visual interest to this home with its expansive windows and open floor plan. Neutral tones flow from one room to the next while the dark gray accents provide a place for the eye to rest.
Neutral colors are the perfect complement to wood floors and ceilings. Using color with wood can be tricky, since wood tones often carry underlying colors like red or yellow. Beige and white are safe choices and allow the opportunity to add colorful accents like a bowl of fruit or a fun pitcher.
Photo by Haver & Skolnick LLC Architects
Lucky is the homeowner who enjoys brick in their kitchen. Whether it's a fireplace, a wall, or even flooring, brick always pairs well with neutrals.
Neutral tones aren't limited to beige and white. Gray, brown, and even shades of green and blue can be used as neutrals. I love the richness of these gray kitchen cabinets.
A neutral dining room uses a smart combination of textiles. Soft slip covers circle around a sleek, black table top while a rustic wood hutch adds texture in the background.
Warm woods feel so organic. The vaulted ceiling in a blonde shade keeps the room from feeling heavy and dark.
Outdoor dining feels cozy due to surrounding dark neutral tones.
Creamy colors create a peaceful, elegant bedroom. This sleeping space makes me want to paint my bedrooms. If you need a shot of color, add a beautiful oil painting or two.
You can also introduce color in a neutral room with a fun patterned rug.
Even a bathroom looks warm and cozy, with the texture of a wood vanity and shiplap walls.
An outdoor porch enjoys rich texture in the form of a stone fireplace and wood walls. A fibrous rug, a couple of throws, and a geometric-patterned pillow provide additional texture to the space.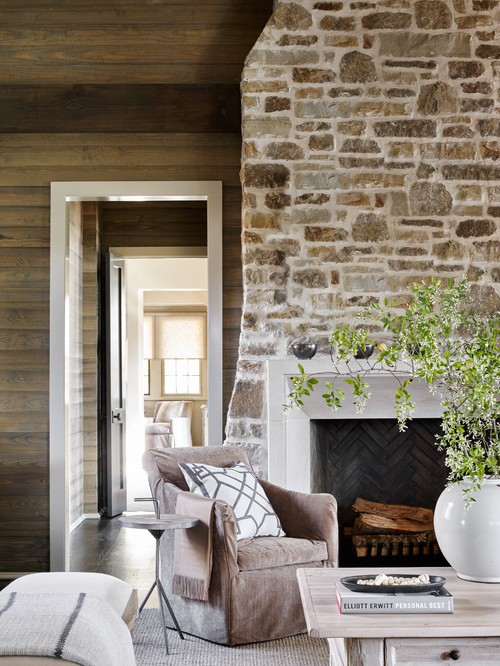 Photo by Jeffrey Dungan Architects 
I've started planning my fall decor and I'm leaning toward a neutral color scheme. All of these rooms make me feel warm and cozy – perfect for the autumn season.
Pin It for Later:
What colors do you like to use in your rooms as the days become shorter?
See More Color Inspiration in the Home …
Decorating with Pink and Green
Decorating with Red, White, and Blue